Tyndall AFB Sea Turtle Program
---
Tyndall's 18 miles of natural Gulf front beaches serve as undisturbed nesting habitat for protected sea turtles. Four of the six species found in U.S. waters have been documented nesting on the beaches of Tyndall AFB and all of them are threatened or endangered. The most common species to nest in this area are loggerhead sea turtles, but occassionally greens, leatherbacks, and the critically endangered Kemp's ridley will nest here as well. They make use of the beach and lower dunes at night to deposit on average 100 eggs in the sand, and then return to the ocean to nest again at a later date. Hatchlings emerge through the summer after the nest has incubated on average 60-70 days. Under the protection of nightfall hundreds of hatchlings will emerge from these beaches each summer. Sea turtle nesting surveys are conducted from 1 May to 31 August by Tyndall Natural Resources, U.S. Fish & Wildlife Service staff, and local community volunteers.
* Volunteer applications will be made available and accepted in January and February.
Program Coordinator: Danielle Bumgardner
e-mail: danielle_bumgardner@fws.gov Office Phone: 850-283-2822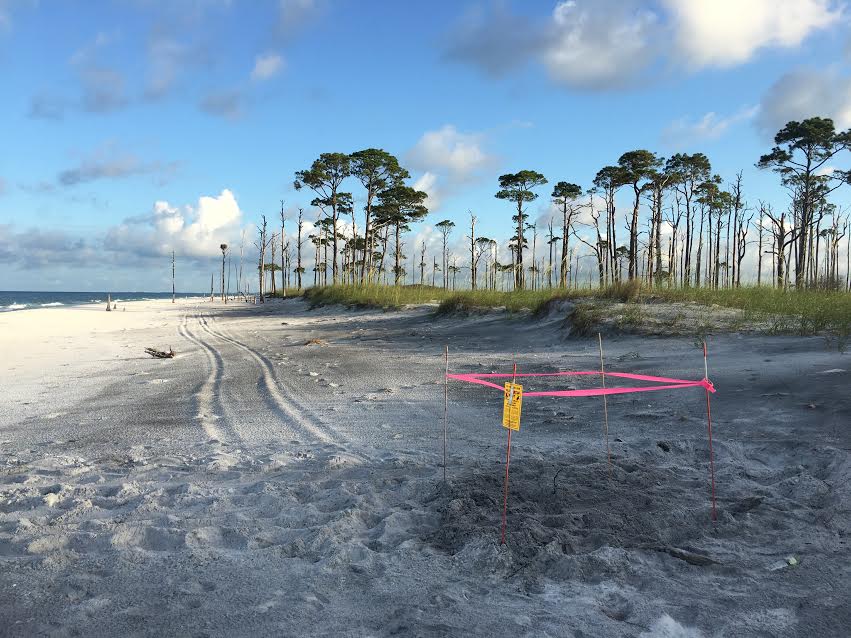 Monitoring:
Tyndall Natural Resources maintains appropriate permits to monitor sea turtle nesting and hatching from Florida Fish and Wildlife Conservation Commission. The purpose of the sea turtle monitoring program is to collect data annually to determine the distribution and abundance of sea turtle nesting activity on 18 miles (29 kilometers) of Tyndall's Gulf of Mexico beaches and provide nest location information for military mission avoidance purposes. Nesting surveys are conducted at sunrise daily from 1 May to 31 August and are designed to locate the crawls of nesting female turtles, determine crawl or nest status, determine species identification, and protect the nests from potential loss and predators. The nests are fitted with a self releasing wire screen secured by fiberglass stakes and marked with an ID tag and sign. All nests are excavated to determine nest success 3 days after hatchling emergence or after an 80 day incubation period with no sign of emergence activity.
---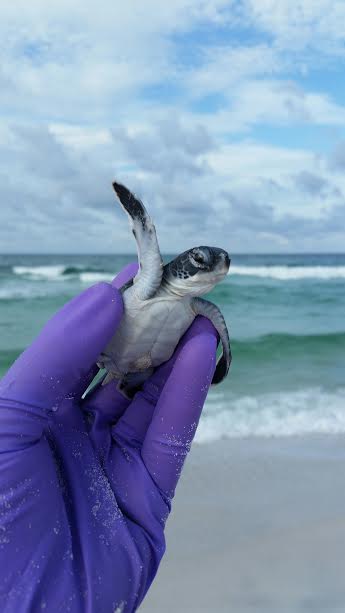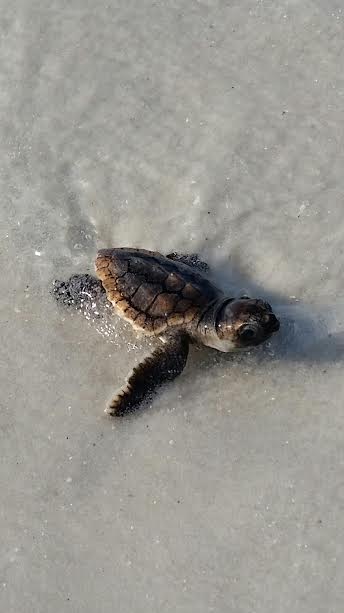 2017 Nesting Season:
as of Aug 14, 2017
---
Nest Count: 109
False Crawls: 134
Hatched nests: 12
Hatchlings: 1,185
Strandings: 15
---
Sea Turtle Volunteer Program: Tyndall TurtleTeam
Tyndall Turtle Team consists of Natural Resources staff, U.S. Fish and Wildlife Service staff, and local community volunteers who commit to protecting sea turtles and their nests. Volunteers have the opportunity to assist in the efforts of locating, marking, and protecting nests deposited on Tyndall beaches every weekend through the nesting season. We operate under State permit # 052 which allows us to have up to 25 commited volunteers. Volunteers are required to attend various training events and help conduct surveys during early morning hours. Occasionally some lucky volunteers may have the rare privilege of encountering a nesting sea turtle or releasing hatchlings into the Gulf of Mexico.